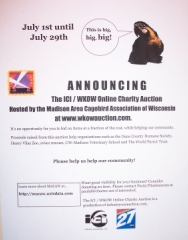 Here is a listing of those businesses and individuals who donated to our 2004 charity auction. We cannot thank them enough. I urge everyone to support those who supported us by patronizing these giving businesses. Please remember, out of the many businesses contacted, only 1 in 3 helped us. Thank you. And thank you to all those who took part in our first online auction and only fundraiser this year.
A special thank you goes to Paula Fitzsimmons who solicited the many donations, input the data into the auction, and ran things behind the scenes.
Another special thank you goes to MadCat Pet Supplies for donating that huge California Cage valued at $900. And to Ruth who won it!
The ICI / WKOW Online Charity Auction is a production of industryconnection.com. Thank you Industry Connection and WKOW for making this opportunity possible!
Thank you! Thank you! Thank you! Thank you! Thank you! Thank you! Thank you! Thank you!
---
Listing of those who gave to MACAW for the 2004 charity auction (please support them!)
IndustryConnection.com
WKOW-TV
MadCat Pet Supplies
Bob Lindmeier (WKOW-TV)
The Ultimate Spa and Salon
Dr. Fosters and Smith
Milwaukee County Zoo
BowTie Press/Fancy Publications (BirdTalk magazine)
George Vitense Golfland
Star Cinemas
Kneaded Relief Therapeutic Day Spa
Big Mike's Super Subs
Atlanta Bread Company
Animart
Culver's
Culver's of Middleton
Chili's Grill & Bar (east side)
Cornell Lab of Ornithology
Tangy Design
Cost Cutters
Frugal Muse
Half Price Books (west side)
The Shoe Box
Noodles & Company
Green Bay Packers
Milwaukee Bucks
Rocky Rococo
Outback Steakhouse
Marriott Madison West
Six Flags Great America
Simply Parrots
Circuit City (west side)
Scrapbook Superstore
Bowl-A-Vard Lanes
Einstein Brothers Bagels (Mineral Point Road)
Ponderosa Steakhouse (west side)
Timber Lodge Steakhouse
Klinke Cleaners
Vinery, Inc.
Seed Savers Exchange
Little Luxuries
Carlos O'Kelly's (east side)
Cousins Subs (Odana Road)
Rejuvenation Day Spa
Sprint Print
Camera Company
Orange Tree Imports
Dry Bean Saloon & Steakhouse
Nevada Bob's Golf
Papa Murphy's Pizza
Wisconsin Craft Market
Knitting Tree
Learning Shop
JT Whitney's Pub & Brewery
Supercuts
Sweet Gift Express
Studio You
Pegasus Games
Great Dane Brew Pub
JC Penney Styling Salon (East Towne Mall and West Towne Mall)
Panera Bread (Junction Road)
Pirate's Cove Adventure Golf
Ripley's Believe it or Not!
Shedd Aquarium
Museum of Science & Industry
Badger Bowl
Ultrazone Laser Tag
Urban Links
Milwaukee Brewers
Qdoba
Companion Animal Hospital
Kelly Lynn Domnie, LVT
Studio You
Chipotle Mexican Grill (State Street)
Topper's Pizza
Great Clips for Hair
Cave of the Mounds
Cracker Barrel
Chocolate Shoppe Ice Cream
Marion A-MAZE-ment Park
Magic Waters
Holiday Inn Madison
Villari's Martial Arts Center
Osceloa-St. Croix
Old Country Buffet
Minnesota Transportation Museum
Wal-Mart (west side)
Body in Balance
Marigold Kitchen
Simply Parrots Shoppe
The Crubaugh Family
Ruth Gundlach
ZuPreem
Feathered Fids Boarding (Jackie Hugo)
Madison Area Cagebird Association of Wisconsin (MACAW)
PJ Publications
Milwaukee Admirals
Olbrich Botanical Society
Valley of the Kings Sanctuary
Milwaukee Public Museum
Kalmbach Publishing (Birder's World magazine)
Schwoegler Lanes
SwimWest
PDQ
American Players Theatre
Madison Children's Museum
Easy Cuts
Madison Symphony Orchestra
A Birdhouse, Inc.
Brian's Birds
American TV (Beltline location)
Bay of Dreams and Family Land Waterparks
Thank you! Thank you! Thank you! Thank you! Thank you! Thank you! Thank you! Thank you!